A selected group of the EUReACT 2015-16 team visited the Italian Parliament (Rome, 25 November 2016).
Students participated as observers to the plenary session of the Chamber of Deputies, scrutinising the Italian Budgetary Bill 2017. Moreover, two seminars respectively with the Head of the Office for Relations with the EU at the Chamber of Deputies, Mr. Paolo Visca, and with the Head of the Secretariat of 14th Standing Committee on EU Policies at the Senate, Mr. Davide Capuano, were developed.
We tried to understand the place of EU-affairs within everyday parliamentary activities and the specificities of each parliamentary Chamber when dealing with EU policies.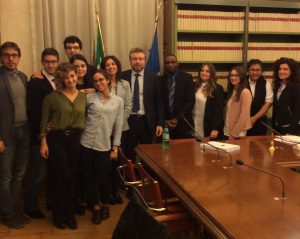 (After the meeting with Davide Capuano, Senate)

SEMINAR
Executive-Parliament relations and EU policies at home:
current situation in the Italian Senate and
perspectives in the frame of the Constitutional reform