A 1-day Workshop & Teleconference titled Experiencing multilevel democracy has been organized at the Department of Social, Political and Cognitive Sciences (Dispoc), SIENA.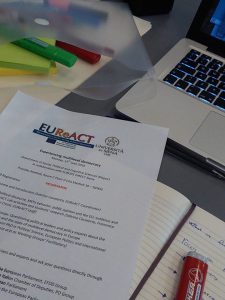 Students had the opportunity to interact each other in thematic working groups & ask directly questions to political actors and policy experts about the scope of EU governance and the state of multilevel democracy in Europe. The discussion between participants in Siena and privileged witnesses outside Siena has been developed through a LIVE CHAT via Webex. The web-based platform has been realized in collaboration with the Laboratory for Political and Social Analysis at Dispoc and the U-Siena Integra Project.
Results of this participatory and interactive process are available through the EUReAct website (see Materials/Tools) and the U-Siena Integra Platform.