The 2nd Year of the EUReACT Activities started on March, 2, 2017.
Kick-off-meeting at Presidio Mattioli h 11-13 (Aula 5).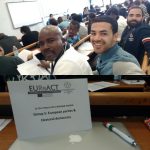 Akgul Salih
Alessandrini Arianna
Altavilla Giorgia
Arkhurst Bernice
Awit Kathrine
Bako Jemimah Junias
Bart-Plange Claudia Delphina
Benedetti Marco
Benzine Aissame
Berni Francesco
Boadu George
Bovienzo Domenico
Curiale Salvatore
Efua Amoafoa Ampadu- Mensah
Egbosiuba Silver
El Hassan Berrim
Fontanelli Cristina
Lefaivre Paul
Litterio Gianluca
Mamulashvili Giorgi
Moscatelli Federica
Moutinho de Lima Camilla
Mura Cristina
Ngetuny Livingstone Lekishon
Nguyen Thi Baongoc
Obeng Pamela Adjoa S.
Odoi Shadrack Laryea
Owusu Agyei Kwabena
Parviz Imanov
Pintauro Elisa
Qusai Hammash
Rahmati Mohammad
Saeid Jafari
Shoroq Adnan Aladieen
Testa Chiara
Wangdue Tsering
Zotova Elizaveta